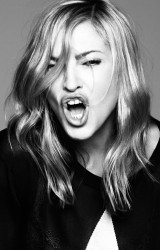 Madonna has called MIA's middle finger salute at the Super Bowl "teenager" (not strictly an adjective Madge) and "irrel­ev­ant" in an interview with Ryan Seacreat, as reported by BBC Newsbeat.
The 'Give Me All Your Luvin'' hitmaker continued: "There was such a feeling of love and unity there. What was the point? It was just out of place."
"I under­stand it's punk rock and everything, but to me there was such a feeling of love and good energy and pos­it­iv­ity, it seemed negative."
Later Madonna's spokes­wo­men Liz Rosenberg — perhaps aware that the two might need to perform the song again at some point — said the rapper was now forgiven, with Madonna believing she just got caught up in the moment.