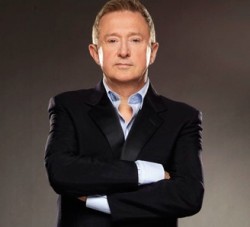 X Factor jester Louis Walsh has made some thought­ful cri­ti­cisms of credible talent show The Voice in this week's Heat magazine (as quoted here).
The show, he feels, is "dull and boring", "not great TV" and "like Fame Academy" (he's right on all three counts). Ultimately he is "so glad that Britain's Got Talent is beating The Voice" in the ratings, because "I hate The Voice".
Lou also had some choice words for 'coach' will.i.am in par­tic­u­lar. "What's that man's real name anyway? It's not will.i.am, is it?" pondered Michael 'Louis' Walsh. "What's that silly glove all about?"
What indeed.
The tirade didn't stop there. Proving his cre­den­tials as an astute talent scout, the Bellefire boss jabbered: "If he didn't have Fergie in that band, where would he be? Fergie is the real star." Lou even suggested that he would "love her" as a stand-in for Kelly Rowland.
Amazing.