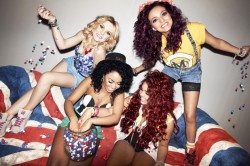 Little Mix have said some slightly boring things about their new single, but it's a slow news day so we thought we'd write it up for you anyway.
Talking to the Pop Prince (DISCLAIMER: he's not a real Prince), Perrie said she's happy for 'Wings' to be compared to some songs by other artists.
"It's a com­pli­ment to be compared to a Beyoncé kind of sound, or Christina Aguilera kind of sound," she said. "It's just amazing to be compared to those amazing divas, so yeah it's really nice."
See, Lady Gaga? Some people take this sort of thing as a compliment!
Jesy, meanwhile, was so excited about the fact they they don't have to sing covers anymore that she forgot to pause for breath.
"We hope that we surprise people with our music, as when you're on X Factor you have to perform so many covers and when you come out of the show you have to find yourself as an artist and I def­in­itely think we have with this single and we're really happy with the way it portrays Little Mix."
The girls also hinted that their next single would be edgier and darker but there are no sup­port­ing quotes for that we're afraid to say.