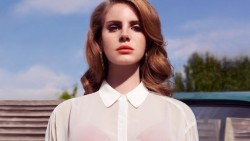 Authentic Chanteuse Lana Del Rey has announced plans to perform a series of live shows in the US this summer.
According to MTV, the 'Gramma (Blue Ribbon Sparkler Trailer Heaven)' hitmaker will play three nights in Los Angeles on June 3 — 5, followed by a three night stint at the Irving Plaza in New York from June 7 — 9.
Del Rey's next single, 'Blue Jeans', will be released in the UK on April 9.