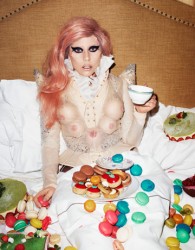 Lady Gaga has posed with five boobs and macaroons coming out of her ladybits in the new American issue of Harpers Bazaar.
The multi-page shoot also includes images of her as the matriarch of a choir of Gagas, and naked on a mirrored piano.
In the accom­pa­ny­ing interview, Gaga gives many a choice soundbite, including citing "a lot of weed" as the inspir­a­tion for the 'Born This Way' video and saying "they're not pros­thet­ics, they're my bones" of her facial pro­tru­sions.
Our favourite quote is "I put my toe in [the Hollywood] water, and it was a Kegel-exercise vaginal reaction where I clenched and had to retract imme­di­ately," which obviously makes everything clear.
See more previews from the Harpers Bazaar shoot at Nicola Formichetti's Tumblr.