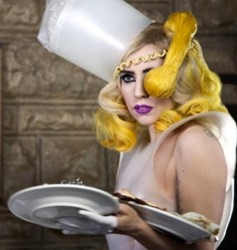 Lady Gaga has stated that she is prepared to perform the Indonesian dates of her tour solo, in the face of pressure to cancel the show.
The Born This Way Ball has caused a bit of a kerfuffle in Asia, with religious funsters in Korea, Philippines, and Indonesia protest­ing the show as "sexual", "indecent", "dangerous" and "satanic", which all sounds like a good night out to us but each to their own.
Gaga, who is still waiting to see if she is granted a work permit, told her fans: "The Jakarta situation is 2‑fold: Indonesian author­it­ies demand I censor the show & religious extremist sep­ar­ately, are threat­en­ing violence."
Threatening to bang out the tunes regard­less, she continued: "If the show does go on as scheduled, I will perform the BTWBall alone."
This raises the very real danger of Gaga sitting by a jazz piano in a tracksuit, and if the LOL police saw her Radio 1 Big Weekend per­form­ance they'd be wise to just let her do the bloody thing as normal, gays and all.