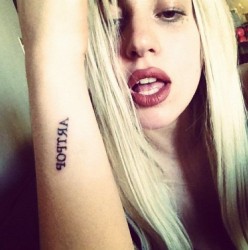 Cancel those Balance Dad Mysterious t‑shirts: Lady Gaga reportedly told someone at her meet and greet in Amsterdam the other night that there will be no new music from 'ARTPOP' released this year.
According to PropaGaga, the 'Starstruck' (feat Flo Rida) hitmaker revealed that while the music for her new album is complete, the vocals and other "stuff" have yet to be finalised, and she would rather wait until 2013 to release the lead single because "it doesn't feel fresh if it's not coming in a fresh new year," which seems fair enough if a bit postrationalisetastic.
She also took some time to talk about tattooing her shaved her head in front of spec­tat­ors at her perfume launch, saying that it was "fucking cool" to take part in her "first REAL ART piece in a ARTmuseum" but it's all about the music at the end of the day, right? Right.