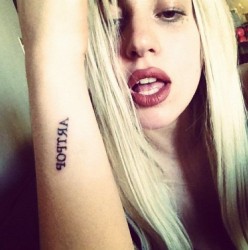 Lady Gaga has had one or two inter­est­ing things to say on Twitter about her new album 'ARTPOP'.
Speaking to fans about the new album, she said she has written 50 (FIFTY) songs for 'ARTPOP' but is yet to decide which ones will 'make the cut'.
As reported by Rolling Stone, Lady Gaga said: "I have written like 50 [FIFTY] songs. i don't know what will rise to top. but thats how i wrote the fame/the fame monster."
Gaga also suggested that, although the album "stands pretty firm on its own", the release of an 'ARTPOP' app could enable to her to publish extra songs whenever she likes.
"i'll release collabs regard­less if they're on album or not, thats whats nice about app," she tweeted. "i can upload new material all the time."
Potentially amazing, if offensive to those of us who respect the sanctity of correct apo­strophe use.