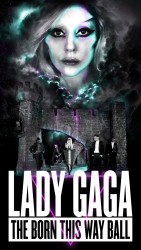 Lady Gaga has revealed the official Born This Way Ball poster, her "homework" which she posted on Twitter after "too much wine".
Due to Lady Gaga being a boundary pusher, the poster won't fit on a normal A4 sheet, and it features a giant Gaga ser­i­ous­face appearing from the clouds.
Underneath, there's the first look at what could poten­tially be part of her medieval castle set which she showed in a sketch yesterday. In a nod to 'the gays', the Haus Of Gaga Photoshopper has included a neon pink triangle upon which Gaga stands while sur­roun­ded by what appears to be not a very good boyband.
It's all is quite exciting, and you can have a look at it nice and big here.