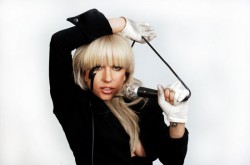 Lady Gaga has performed an about turn and given per­mis­sion for 'hilarious' US parody merchant "Weird Al" Yankovic to release a parody version of 'Born This Way', reports Rolling Stone.
Yankovic's version — entitled 'Perform This Way' — was initially released online yesterday against the wishes of Gaga, with Yankovic posting a lengthy blog about it all.
All proceeds from the song are set to go to the Human Rights Campaign, an organ­isa­tion that supports gay, lesbian, bisexual and trans­gendered causes.
It's not clear if this is what swayed Gaga, but according to a tweet by David Itzkoff from the New York Times, she has since given her blessing to the song.
You can listen to 'Perform This Way' here. Prepare yourself, your sides might just split.