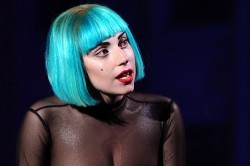 Lady Gaga fired the director of 'The Edge of Glory', Joseph Kahn, midway through filming because of an 'issue on set', according to cho­reo­grapher Laurieann Gibson.
Joseph Kahn, who directed 'Love Game' as well as 'Toxic' and 'Womanizer' for Britney, made the announce­ment earlier today on Twitter. His tweet reads "I did NOT direct Lady Gaga's "Edge of Glory" video. Lady Gaga did." Interscope have since confirmed Haus of Gaga — who were credited for the 'Judas' video — as the directors.
When asked the reason for the split by fans, the video's cho­reo­grapher Laurieann Gibson tweeted "sorry guys there was a slight turn of events on set". When ques­tioned further, she snapped "listen u dis­respect­ful fuck they had an issue on set I don't lie!!!!!"
Cheers Laurieann.
'The Edge of Glory' will premiere on 'So You Think You Can Dance' tonight at 8pm ET (1am GMT), and will be viewable on Vevo instantly.