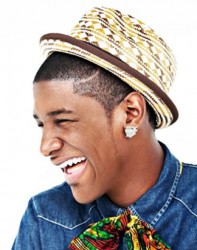 Labrinth's got to go to a "debrief" from label boss Simon Cowell at the end of the year.
"Everyone's got to check in," Labrinth told BBC Newsbeat. "After you release an album you go, 'Where did we go wrong, where did we go right?'"
It seems like 'Lab' is keen to keep the momentum going so is quite looking forward to the 'chat': "But we're ambitious people and I didn't come to Syco to rest on my laurels and chill. We're going to keep working and keep pushing it."
One of the things he's keen to keep pushing is Ed Sheeran. "Ed's a bad boy and I got mad love for him," he said when asked if he had plans to work with him again in the future.
('Bad boy'.)
Mind you, he's also got a lot of offers coming in from all over the place: "A lot of people call me and I'm one that's high up on their list. They're like 'We need to get some Labrinth beats.'"
"I think they like the way I do my thing. I'm in my own little corner," he continued.
So modest.