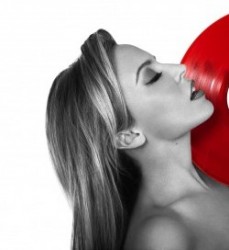 You may need to sit down for this: Kylie Minogue's next album will include "pop dance music" but with "some vari­ations on the theme".
The 'Some Kind Of Bliss' chanteuse dropped this bombshell in an interview with Now That's What I Call Music that arrived in an email earlier yesterday afternoon.
Asked if 'Timebomb' was an indic­a­tion of where her new album was headed she said: "It's def­in­itely a sign of where I'm heading. I love making pop dance music so that's our launch pad but as always, there will be some vari­ations on the theme."
With recording of said album already started she continued: "'Timebomb' was a track I felt was the perfect song to be part of the K25 cel­eb­ra­tions. So, we decided to make it one of our surprise uploads on Kylie.com! Not only was I super excited about the song and the video, but the surprise element felt abso­lutely appropriate."
As for the video, she picked a grey day in London because of its "gritty street edge", adding: "London will always be happening as far as music is concerned. We wanted to reflect that this is a tune made and recorded in London and reflect that in showing ultra cool London in the video."
'Ultra cool'.