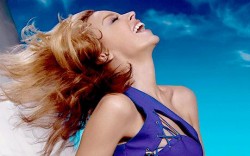 Kylie Minogue has done a pretty amazing interview (and shot 25 different covers!) for Stylist magazine .
All the questions have been asked by celebrity fans including Nicola Roberts (who asked about pale beauty icons), Jo Whiley (who wanted to know Kylie favourite board game — it's Scrabble by the way) and Caitlin Moran (who asked about being asked about babies).
The whole interview is great with some high­lights being Kylie telling Naomi Campbell her favourite ever outift was her "blue Showgirl costume", Jackie Collins that in all of her men "the common denom­in­ator is being creative and artistic" and explain­ing to Roberto Cavalli that when she's pissed off she's "scarily quiet. Like the thun­der­storm is coming, impending doom".
You can read the full in-depth Q&A here and have a look at the 25 cover images here.