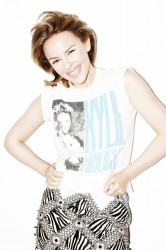 'Lhuna' hitmaker Kylie Minogue will be a 'coach' on the next 'season' (series) of The Voice UK, she's announced via the medium of Twitter.
"#LOVERS," she began, "I'm excited to announce that I'll be coaching on @BBCTheVoiceUK next season!"
She also had this to say when asked for a quote to put in the press statement:
"I'm very excited to become a coach on The Voice UK. I love the concept of the show and have been an avid viewer of both series."
"The search for new talent is such an important aspect of the music industry and The Voice UK gives us all a part to play in that," she continued. "Will I be com­pet­it­ive? Probably more than even I imagine! Watch this space!"
The credible, acoustic guitar-bothering, gimmick-free spinny chair marathon starts again next year, probably around March time.