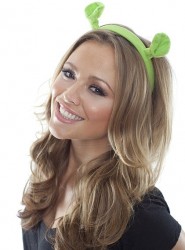 Popstar-on-hiatus Kimberley Walsh has been nominated for Best Takeover in a Role at the What's On Stage theatre awards.
Kimberley, who replaced Amanda Holden in the role of Princess Fiona in Shrek The Musical last October, is up against Matt Lucas for Les Miserables and Susan 'Brian's sister' McFadden for her role in Legally Blonde.
Nicola Roberts seems quite keen on her winning, tweeting: "Please vote for Kimberley.. She's nominated for best take over role and I really want her to win! xx"
If you, like Nicola, would like to see Kimberley winning a musical theatre award instead of getting back to her day job, you can vote here.
Hard news. That's what this is. HARD NEWS.