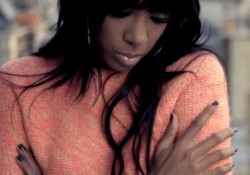 Kelly Rowland takes a European city break in the video for her new single 'Keep It Between Us'.
Shot recently in Paris, the clip sees Kelly wandering the streets with her man, seeing the sights and being generally touristy.
Later she's shown looking at pictures of them together and walking down those same streets alone. What trouble struck our heroine and her beau? The world will know later today, when Kelly releases the full video on her website.
'Keep It Between Us' is the eighth single to be taken from 'Here I Am', which is out now.