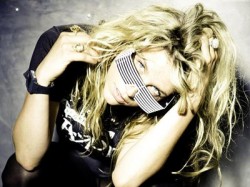 Ke$ha wants to assault you when you go to see her on tour.
"Visually it will just be assault­ing, and sonically it will be assault­ing" she told Billboard. "It's just going to be an assault of all your senses, but it's going to be really, really, really fun."
There's no word on how the tour will assault your tastebuds, but we're pretty sure she'll find a way.
Don't go assuming it will purely be her writhing around on car bonnets or glugging Jack Daniels either. "I play a lot of instru­ments… and I can dance and I can really, really sing, so I'm going to be doing all that and, meanwhile, covering everybody in glitter."
Well done Ke$ha.