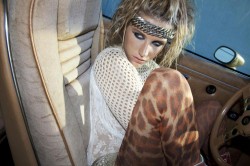 Ke$ha's been chatting about her forth­com­ing MTV doc­u­ment­ary series and basically there's a bit in it where she drinks her own piss.
Of course she does.
Talking about Ke$ha: My Crazy Beautiful Life (as quoted here), which was directed by her brother, the urine-swilling songbird 'revealed':
"He got all the things you would want to see and all the things you wouldn't really want to see; making out with dudes, drinking my own pee, jumping out of a building, jumping out of aero­planes, swimming with sharks…".
Obviously she had to then elaborate on the whole 'drinking her own piss' thing.
"I was told drinking my own pee was good… Somebody tried to take my pee away from me and I said, 'That is mine!' So I snatched it up and took a chug and it was really gross so I don't do it anymore."
She also went on to talk about how it's only really her fans that under­stand her. Everyone else just thinks she stinks.
"My fans are amazing to me, but usually the people around me say, 'You're dis­gust­ing!' or, 'Put your pants on!' or, 'You're late!' Or they say, 'You smell weird, what's that smell?" she explained.
The answer, of course, is piss.