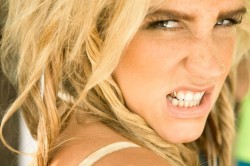 Street piss artist Ke$ha and modern day Hugh Hefner Pitbull are going on tour together in America.
The tour was 'teased' via the medium of Twitter with Pitbull asking "Well what's going on this summer? Maybe we should hang out…and party", before the 'C'Mon' hitmaker replied: "Are u sure you can you handle this wild child?"
Well appar­ently he can as the pair are spending over a month on tour together, starting on May 23 and finishing on June 28.
You can see the full list of dates here in fact.