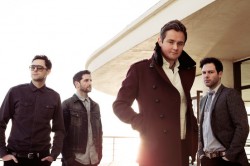 Keane will perform an acoustic set at Rough Trade East in London on April 21 as part of the Record Store Day 'cel­eb­ra­tions'.
Talking to a press release about what record stores mean to him, key­board­ist Tim Rice-Oxley said: "When I think of a record shop I think of rummaging through bins of second-hand vinyl, ending up with an arm-load of stuff I'd always meant to get round to listening to but always forgot to buy."
He also revealed that his favourite record shop was David's Music in Letchworth.
Keane's new single 'Silenced By The Night' is released on April 30.