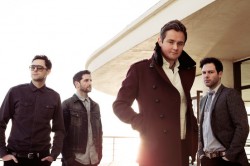 Fun police Keane have spouted some further thoughts about popular music.
Rebuking the notion of enter­tain­ment and "mindless, temporary pop", LOLigarch Tom mused: "It's more about the enter­tain­ment side of things and less about the music and authen­ti­city. We're living in the Simon Cowell generation."
The disdain for Leona, 1D, Sam Buttery 'et al' didn't end there. "Everyone seems to be a product of a TV show," he went on to NME. "It's made music quite generic, which I find very frustrating."
"It's down to bands like us to buck that trend and fight against the mindless, temporary pop," he declared.
Hasn't this man even HEARD of Aidan Grimshaw?