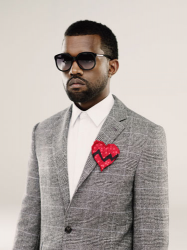 Kanye West had a massive rant about pretty much everything at a 'gig' in London this weekend.
At his concert at the Hammersmith Apollo on Saturday night, Kanye decided to continue with his full-time hobby of refusing to accept any awards given to Taylor Swift.
As quoted by The Sun, he said: "Taylor Swift beat Beyoncé at the Grammys? Beyoncé be dancing in heels and s***."
We think this means 'shit'. Could be salt. But why would you dance in salt?
Anyway, he continued: "We need the music business to be evened out and fair. I've never won a Grammy against a white artist. I'm motherf****** Kanye West, we can create a human utopia if we try."
That's a lovely human Utopia in which Kanye West wins lots of Grammys, obviously.