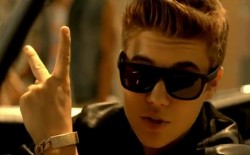 Justin Bieber's Madison Square Garden 'gigs' sold out in 30 seconds and his 44-date US tour in just one hour, according to his record label Def Jam.
The stats, as 'revealed' by The Hollywood Reporter, confirm how 'Bieber Fever' — as suspected — grows ever more ter­ri­fy­ing by the day.
The 'Believe' tour will commence swagging and fonduing on September 29 in Arizona (just in case you happen to be around the area).
Meanwhile, Justin has been enjoying a whirlwind 'impromptu tour' of Europe this week taking in mildly crazed fans in Norway, France, Italy and Spain.
While the prowess of his 'Beliebers' in tracking him down grows ever more soph­ist­ic­ated — there were James Bond-esque speed­boats in Oslo — Justin continues not to fear for his safety and to find it all mildly intriguing.