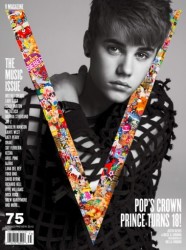 Justin Bieber is to grace the cover of V magazine's annual music issue (pictured).
The issue also includes inter­views with Lana Del Rey, Britney Spears and Lady Gaga, as well as a double-page spread on Sky Ferreira in which she's dressed like Madonna.
You can see a sneak peak of the feature on Ferreira's Facebook page.
Winnipeg Free Press have a snippet of Bieber's interview in which he claims to talk directly to God from home rather than going to church.