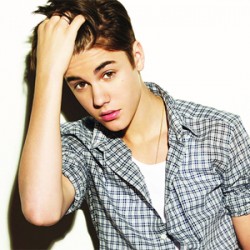 Justin Bieber is planning to announce a 'Believe' tour "in like a week."
He confirmed to MTV that he is schedul­ing live shows, spec­u­lat­ing: "I think we're releasing the tour dates in like a week, so look out for that."
The singer who is no way trying to emulate Justin Timberlake has been putting the hours in at the choreographer's to prepare.
"There's a lot of fun stuff," he promised, which is good place to start with a concert we find. "I've been really hard at work in the studio, in the dance studio, just kind of figuring out what I want to do as far as cho­reo­graphy and whatnot."
'And whatnot'.
"I think the tour's going to be really special," the 2012 Elizabeth Taylor Fragrance Celebrity Award recipient added. "We got a lot of surprises."
If we don't get a fondue fountain, there'll be trouble.