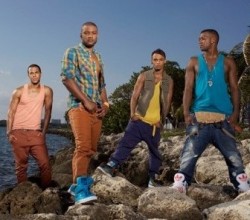 'Hold Me Down' hitmakers JLS have called it a day, although the day in question is not for some time.
Marvin, Aston, JB and Oritsé will complete an arena tour and release a Greatest Hits album at the end of the year and then that's it.
The news was initially made public by Gordon Smart on Twitter, before a full interview appeared on The Sun's website.
Popjustice's favourite JLS member Marvin had this to say about it all: "It's an emotional time. There's no getting away from that. We have been through so much together."
"But we have to be mature and look at this decision as a cel­eb­ra­tion of what we managed to achieve. We never wanted to overstay our welcome. We never wanted to be that band where people said, 'Oh, bloody hell. It's JLS again.'"
He was also keen to point out that their five year career is pretty impress­ive given their X Factor roots, but that they just couldn't face doing four or five more albums.
"We are the first X Factor act to finish a five-year recording contract. If we wanted to carry on and sign to another label, it was going to be another three, four or five albums. So we all thought about it for a few months and it sort of made sense to say we were moving on with our lives," he explained.
Mind you, Aston's not ruling out some sort of reunion at some point in the future: "For us, this is the end. Of course we don't know what could happen in five years' time."
JLS: we will not forget.