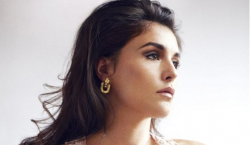 The line-up for this year's Mencap Little Noise Sessions has been announced, and as you can imagine it is a right old LOLfest.
Olly Murs and Lawson are per­form­ing on November 20, which might be alright if you like 'that kind of thing'. On November 23 they have Jessie Ware, prior to The Maccabees per­form­ing the soul-crushing entirety of their last album.
The six nights will take place at St John-at-Hackney Church, in London. We saw Marina there last year and can confirm that it's very nice. It is, of course, all for a good cause.
Here's the 'rundown' of the dates:
November 20: Olly Murs with Lawson and Loveable Rogues (!).
November 21: Richard Hawley with First Aid Kit and King Charles.
November 23: The Maccabees present 'Given To The Wild' with Jamie N Commons and Jessie Ware.
November 24: Noah and the Whale with Villagers, Lucy Rose and Daughter.
November 25: Amy Macdonald with Karin Park and 'surprise' special guests.
Tickets go on sale on October 31 here, if you do happen to fancy it.