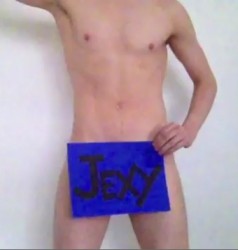 John and Edward Grimes have exposed them­selves in a YouTube clip titled 'Jexy And I Know It'.
The video, uploaded yesterday, features the twins ripping off t‑shirts, dancing in bejew­elled pants and posing nude with a stra­tegic­ally placed A4 (A5 probably would have done it guys) card covering their respect­ive 'dignities'.
The striptease was posted to celebrate the twins reaching half a million followers on Twitter and already has 20,000 hits.
Unfortunately for some, YouTube has since labelled the video as unsuit­able for minors but dirty old gents can go right ahead and watch.
Well done 'the internet'.