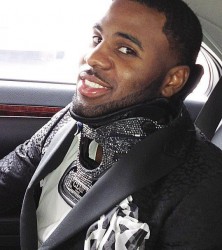 Diamante-encrusted neck brace wearer extraordin­aire Jason Derulo's next album will be called 'Undefeated'.
"It's about living for today. It's about being knocked down but being able to get back up," Derulo said of the album title during a chat with Vibe.
Mind you, it's more than just a word that will go next to his name on the album artwork — it's an entire mindset and one that manifests itself in Derulo's choice of neck brace.
"Even with this neck brace people have passed by me and been like 'hey, that's the coolest neck brace I've ever seen'," he noted. "But taking something that was hideous, something that made me feel lesser, to make it something that's swagged out. It's about taking something negative and making it into a positive."
It is a lovely neck brace.