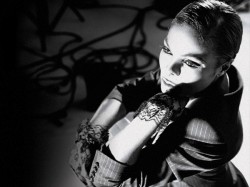 Janet Jackson has started working on another record.
She told ThatGrapeJuice.net that her eleventh studio album and first in more than four years is "in the beginning stages. I've been putting it together".
JJ has also been talking to Jimmy Jam about the pos­sib­il­ity of them recording their tenth US Billboard Number One together.
"We talked about it a little bit. We'll just have to wait and see, I don't know," she teased. "We stay in touch all the time. Always texting each other telling each other how much we really love one another."
Just text him about the bloody record, Janet.