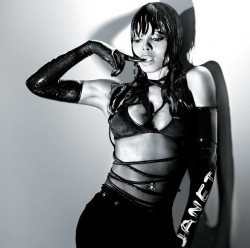 Nutty Professor II: The Klumps actress Janet Jackson has let slip that she might be taking one of the vacant Abdul/Scherzinger seats on US X Factor.
When Anderson Cooper asked her this week if she was involved in the show, Janet was appar­ently caught off guard, saying "oh my god" and nervously laughing off the question before respond­ing: "No, I'm not a judge on The X Factor."
Ever the newshound, Cooper pressed her on the issue, causing Janet to answer: "No, I am not [currently], but that's all I really think I should say".
Intriguing.