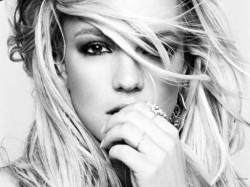 Britney Spears has starred in a Jackass scene, which was aired in America for the first time last night on the Jimmy Kimmel show.
In the pre-taped segment, which was ori­gin­ally filmed for Jackass 3D but inex­plic­ably not included, Britney arrives on the Jackass set, declaring "I'm ready! I'm not scared of poo-poo. Let's do it!"
Turning to the camera, she intro­duces the segment with the words: "Hi, I'm Britney Spears and this is the poo cocktail supreme." She then steps into a portaloo, and the camera cuts to a blonde stunt double getting shaken about in said portaloo and soaked with dirty water.
Britney later tweeted: "Just did my first @jackassworld stunt with Knoxville and company. Knoxville better watch his back", which sounds about as threat­en­ing as a bag of broken biscuits but there we are.