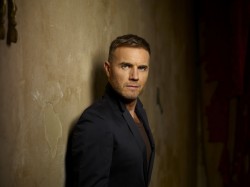 Gary Barlow and Melanie C will perform at an event cel­eb­rat­ing 'Team GB' and 'Paralympics GB' at Royal Albert Hall on May 11.
In his ever-intensi­fy­ing effort to be knighted by the end of the year, Barlow will headline 'Our Greatest Team Rises', a 3,000-capacity sit-down dinner which will raise funds for Britain's summer sporting efforts.
The eternal do-gooder said he was "abso­lutely delighted to be involved", remarking that the event "will play such a crucial role" in raising the money needed to support the athletes.
Meanwhile, Mel 'Mel' C has been given the dubious title of Party To 2012 Artist Chair, a role which involved her bringing together "Britain's biggest names" for the 'gig'.
These names include Alfie Boe and Spellbound.
The press release notes that "tickets remain available" — we're sure they do — so if you fancy picking one up, you should click here.