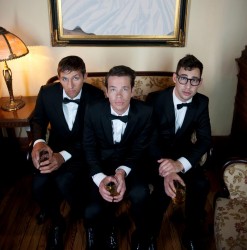 The mis­lead­ingly monikered Fun. have broken a chart record in America, reports Billboard.
'We Are Young' (which very briefly features Janelle Monae) becomes the first song ever (EVER) to 'log' six weeks' worth of digital sales of 300,000 or over.
The song also sold its 3‑millionth copy, becoming the first song to do so in America this year.
The previous 'record' was held by Eminem and Rihanna's 'Love The Way You Lie', which did the above but for five weeks.
Elsewhere on the singles chart The Wanted climb one place to Number 3 with 'Glad You Came', while One Direction's 'What Makes You Beautiful' is at Number 4.