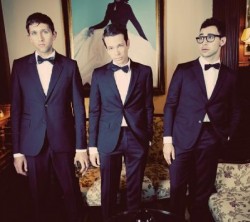 Fun. have been living up to their moniker by refusing to find parodies of their single 'We Are Young' funny.
Talking to MTV, frontman Nate Ruess said that while he hasn't actually watched the parodies ('We Are Drunk' and 'We're Not Young') he's assuming they're not very good.
"Maybe I have a high standard for what's funny, but I'm just going to go with 'We Are Not Young' you probably are not funny. Like, that level of comedy that I just did was the exact same level of comedy that they're doing," he explained.
Still, guitarist Jack Antonoff is just happy that people care enough to bother in the first place: "I think the bottom line is… We're happy the song is cul­tur­ally relevant enough to be a parody. That's a huge milestone for us."
Thanks fun..