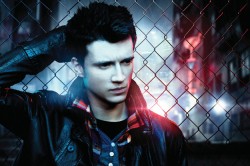 Frankmusik or Vincent Did It or Vincent Frank or whatever you want to call him has put a new song online.
It's called 'Questionable Times', dates back to 2008, and is an emotional acoustic ballad. You can have a listen to it on his website if you like.
Here's a sample lyric: "I feel like the clocks have begun to stop/ because we both know it's us that we've lost."
He tweeted his apologies for the delay in the song's 'premiere', saying that the recording process got "way too emotional".
Not that there's been a lapse in Frankmusik's pro­ductiv­ity recently — 'Questionable Times' is the tenth (tenth!) acoustic‑y, demo‑y type thing that he's put on Soundcloud in the past month.
No-one seems any the wiser about what it's all in aid of though. Least of all Frankmusik himself, who's taken to bashing out euphemistic tweets such as this.
At least that's all he's bashing out, right webcam fans?