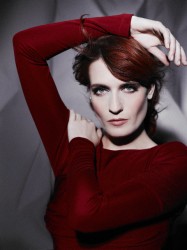 Florence '+' The Machine have recorded a song for future celluloid mas­ter­piece Snow White And The Huntsman.
According to MTV the song's called 'Breath Of Life' and there's a short clip of Florence recording it on Youtube.
Shockingly, the song seems to include an orchestra and a choir.
This isn't the first time Florence or her Machine have con­trib­uted a song to a film of course, with 'Heavy In Your Arms' appearing on the soundtrack to the third Twilight film.