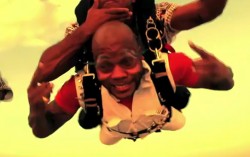 In a refresh­ing change to the usual social media stream of press pictures and 'video content', 'Be On You' hitmaker Flo Rida has been served with a damages claim via Facebook, reports The Telegraph.
The slightly odd move comes after the col­lab­or­a­tion-shy rapper failed to show up for the Fat As Butter festival in Newcastle, Australia last October, despite already pocketing a $55,000 fee.
Of the Facebook post, the legal team rep­res­ent­ing the festival's promoters, Mothership Music, said: "Sometimes you have to think outside the box in litigation."
Or outside the comment box, as it were!!!!!!