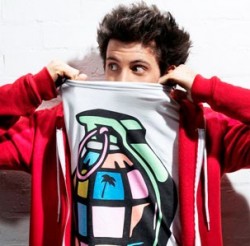 Diligent Twitter user Example has told the Daily Star that he refuses to use his feed to plug brands, despite the offer of free stuff.
"People were trying to pay me to say I use a certain TV, and said they'd give me a whole enter­tain­ment system, as well as pay me," he explained. "All they wanted was a Tweet, saying: 'Look at my new home enter­tain­ment system.'"
Being of strong moral standing, the 'Milk Your Goat' hitmaker had a very short reply: "I said no as I don't believe in that sort of stuff."
If you're worried about how Example will be able to afford his vast array of black t‑shirts in the future fear not: "I'm making money from touring so I don't feel I have to sell my soul to the devil."
What a refresh­ing take on things.