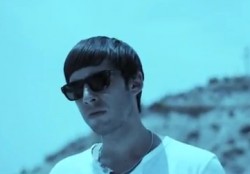 Example doesn't believe in charging his fans money to meet him backstage at his 'gigs'.
Having a chat with the Daily Star Playlist the 'Shot Yourself in the Foot Again' hitmaker fumed: "It's taking people's money for the sake of it. It's a disgrace. Why should someone pay £200 to shake your hand and take a photo?"
Clearly still a bit riled about it all, he added: "I heard about one pop band charging £200 to meet 200 people after each gig, so they were getting £40,000 a night. That's outrageous."
That's the state of the record industry, Elliot.
Always one to keep it real, he then went on to detail his preferred way of dealing with fans.
"If I see people on the street, I'll have a photo with them. If they wait outside a gig, I'll meet them."
So there you have it.
Do you know what, it's not often you can put a price on integrity but in this instance Example is basically 'paying' (or at least not earning) £40K per night on his tour to do what he perceives to be 'the right thing'. In reality of course 100 people paying £100 is perhaps more likely in Example's case, but that's still ten grand he's missing out on not to be a dick. Although once you take away the money his man­age­ment would take, plus admin­is­tra­tion and the cost of the goodie bags and refresh­ments that fans tend to expect as part of a VIP package, he's probably only missing out on £5K per night. Then that would be taxed at 50%, so really he's missing out on £2.5K. Still, over the course of his 2013 arena tour that's still £30K he's missing out on. That would be a nice new kitchen. So 'fair play' to him etc.