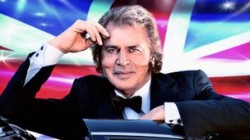 The UK music industry should take Eurovision more seriously (WE'VE BEEN SAYING THIS FOR AGES) according to Lewis Carnie, head of pro­grammes at Radio 2 and 6 Music.
Speaking to Music Week, Carnie said: "Radio 2 has covered Eurovision for many, many years and when you're there you realise that, whilst it has a low currency in this country, the reverse is true for the rest of Europe. It's a massive, massive event on a colossal scale that we just don't get."
Thankfully Carnie feels that Engelbert Humperdinck's 'Love Will Set You Free' will change all that.
"Last year, we decided we had to do something about it. We didn't want to be rep­res­en­ted by unheard of artists that fail to engage the public," he continued, either for­get­ting about 2011 eleventh place finishers Blue alto­gether or employing sarcasm.
"We wanted someone who could raise the profile and get it back on track to where it used to be. I happened to know that Engelbert had just been recording some new stuff, that he was sounding great — and I thought it was a great oppor­tun­ity for him."
We also learn that Humpo has sold 150m records, which is pretty ridicu­lous really.