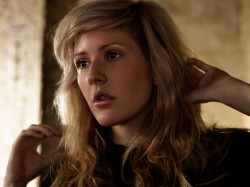 Ellie Goulding hopes her new single inspires people to do something nice like propose to a loved one or go on holiday.
Chatting away to MTV News, she said: "It's called 'Anything Could Happen,' [so] I'm hoping it will make people go out and propose to their girl­friends or go on that holiday they never ended up doing. I hope it will provoke pos­it­iv­ity, as opposed to make people really sad."
That, after all, is what Pitbull records are for.
Talking about her new album 'Halcyon', the 'Wonderman' chanteuse explained that it had been influ­enced by "cir­cum­stances" and that the whole thing was a bit more "tribal and anthemic".
"The last album was very elec­tronic, but it was tied in with my voice; this one, to me, is way more of a pop record," she concluded.