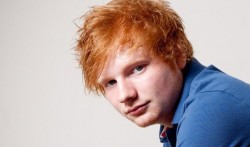 Full-time borelord Ed Sheeran has some 'inter­est­ing' baby name sug­ges­tions for Will and Kate.
Chatting to the Daily Star (who else?!!), the 'Autumn Leaves' hitmaker had quite a few ideas for a name, sug­gest­ing: "I just think it's time for someone in the Royal Family to have a rock 'n' roll name for their kids. Call it Ziggy or Twig. This is the time. If ever's the time to do it, it is now."
TWIG.
"Call it Twig or Oak Tree or PSY," he continued, "or even PSYmon. I don't want there to be another name like Dave. But then Dave would be cool though, wouldn't it?"
We wonder what Ed thinks about the Royals? Because a lot of people have mixed views about them.
"A lot of people have mixed views on the Royal Family. But me, I think it's really cool. And as for Will and Kate, they're in loveand they're having a baby, it's wicked."
'Wicked'.