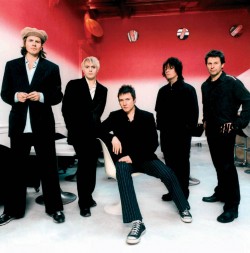 Duran Duran have rubbished their Timbaland-produced 2007 album 'Red Carpet Massacre'.
Talking to The Quietus, bassist John Taylor referred to the album as a "fucking nightmare", while key­board­ist Nick Rhodes laughed that the exper­i­ence of recording it was "embar­rass­ing" and "awful".
Needless to say, the whole thing sold about ten copies.
Duran Duran's current album, 'All You Need Is Now', produced by Mark Ronson, is out now.