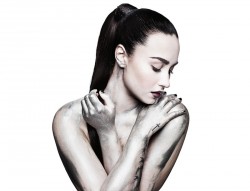 Demi Lovato is leaving her role as a judge on The X Factor to con­cen­trate on her music.
"I started the show being a singer and a musician, and so I'm going to go back to that," the 'Made In The USA' hitmaker told some reporters (as quoted here).
But it's been great though hasn't it?
"It's been really great but I'm so excited for 2014. I'm going to dedicate it com­pletely and entirely to music, touring and making a new album."
Simon Cowell was over­flow­ing with praise for Lovato, who's been a judge on the show for two 'seasons' (series):
"I always knew she wasn't coming back because she's touring, so I knew that."
It brings a tear to the eye.