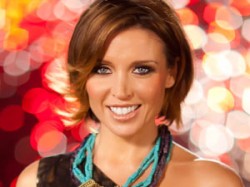 Dannii Minogue wouldn't be entirely against the idea of taking over from Kelly Rowland on The X Factor.
Dannii, who relocated to the Minogue homestead in Melbourne after the birth of her son in 2010 admitted: "I really don't know what's happening — that's up to Simon Cowell. I haven't ruled out coming back to the UK for anything and I think all of the show's fans know that I love it."
Speaking to Hello! (quoted here) about her new life in Australia she added: "My parents are there, my brother is there with his kids and my sister is there at the moment."