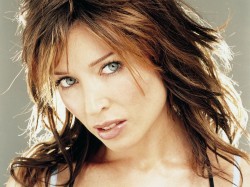 Dannii Minogue is releasing another greatest hits and it'll feature a new song called ''Cos You're Beautiful'.
The '(Est-Ce Que) Tu M'aimes Encore' hitmaker will release 'This Is It: The Very Best Of' next month and will feature the new Ruth Lorenzo-penned (!) track.
If you want to know the full track­list­ing you're in luck, as it appears right after this sentence.
1. Love And Kisses
2. Success
3. Jump To The Beat
4. Baby Love
5. I Don't Wanna Take This Pain
6. Show You The Way To Go
7. This Is It
8. This Is The Way
9. Get Into You
10. All I Wanna Do
11. Everything I Wanted
12. Disremembrance
13. Coconut
14. Who Do You Love Now
15. Put The Needle On It
16. I Begin To Wonder
17. Don't Wanna Lose This Groove
18. You Won't Forget About Me
19. Perfection
20. So Under Pressure
21. He's The Greatest Dancer
22. Touch Me Like That
23. The Winner Takes It All (Featuring Kylie)
24. 'Cos You're Beautiful

'This Is It: The Very Best Of' is out August 23, but only in Australia. Apols.