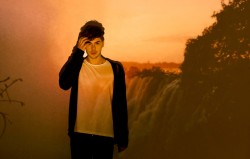 Apparently Dannii Minogue likes Intense Troubadour Aiden Grimshaw's new single, which is good to know.
Asked by The Juice if he still speaks to his former mentor, Aiden said: "She messages me every now and again. She let me know she'd heard the track and that she liked it, which was lovely. She was really good as a mentor. She made me feel really comfortable."
Good old Dannii.
Elsewhere in the chat Aiden 'revealed' that the album is like a "journey", which is a very former‑X Factor con­test­ant thing to say, but he also said he didn't feel like one anymore, so there you go.
"Obviously I don't want to get dropped," he said when reminded about Matt Cardle's recent 'travails', "but I don't really feel like an X Factor con­test­ant any more. I just feel like a normal 20-year-old dude who has written an album."
'Dude'.