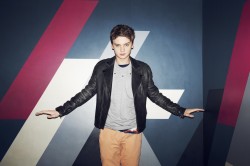 Mature Pop Artist Conor Maynard wants to record some acoustic songs.
The 'Glass Girl' hitmaker chatted about what he wants to do on his second album (quoted here), saying: "I want to work with singer/songwriters. I'm hoping to work with Ed Sheeran or John Mayer."
NO THANKS, but continue.
"The first album was very much about the big up-tempo numbers and now it's time to get into something a bit more intimate and acoustic to really show my voice."
Fear not readers, Conor will stil do a few up-tempo bangers now and then.
"I'm not going to move away com­pletely from the upbeat songs as I love doing them but I'd love to try some new stuff. You've got to exper­i­ment, don't you!''
Not sure we agree with you on this one, but there we go.